Megan is masterful at offering information and insight, guided by her strong intuition, wisdom, and magic. I immediately felt at ease with her. Her style is gentle, no nonsense, practical, humorous and empowering. I left my session feeling more aligned, more clear, and certainly more connected to myself than before, and for that I am incredibly grateful.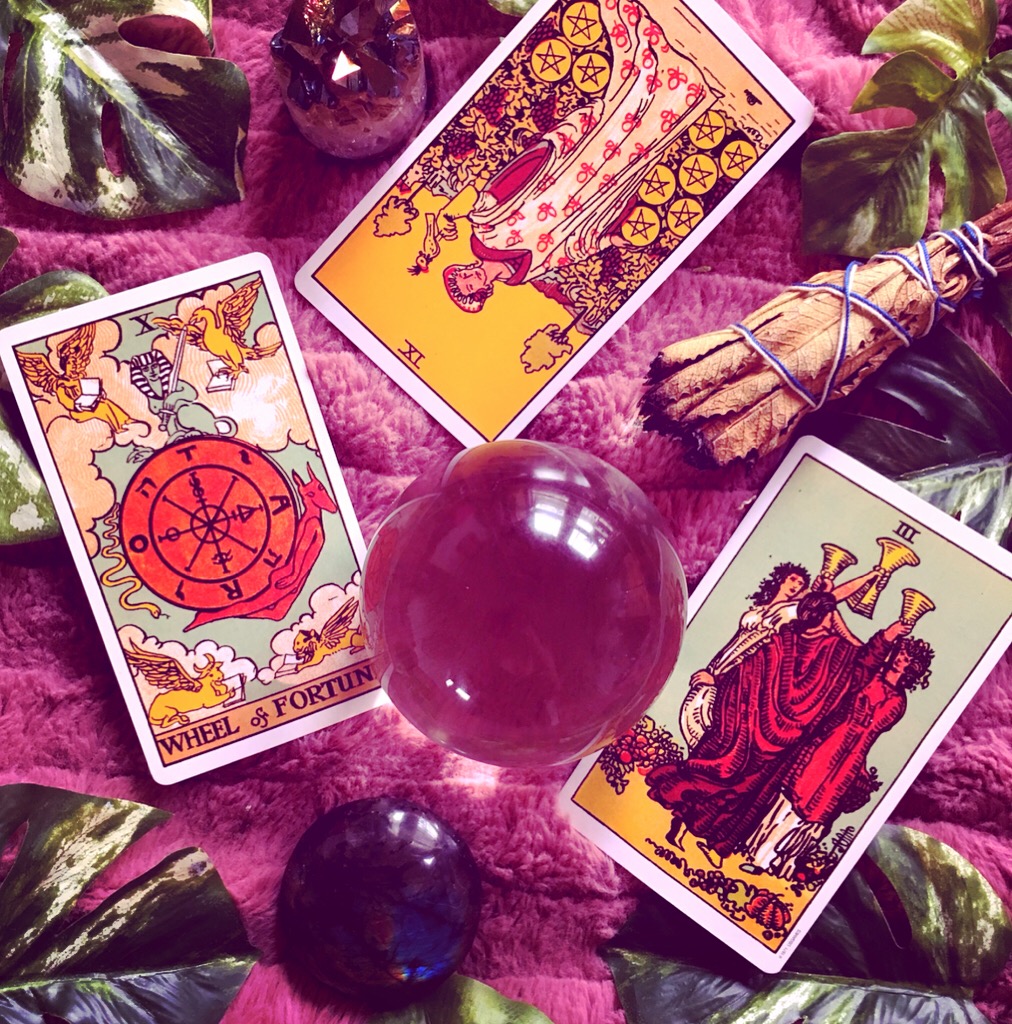 Private Readings
Going through big changes? Feeling stuck? Just curious? Whether you're working through something specific, or just interested in general guidance from the Tarot, I offer one-on-one readings for in-depth insight and exploration. I can read for you either virtually online (30 or 60 minutes) or in-person in London (60 minutes).
I also offer Special Readings: Group readings for friends and couples, Love Life, and Birthday/New Year readings, designed to create space for specific action and intention setting.
For info on my reading style and what to expect from a Tarot reading, see my
about
page.
Let's Deep It
Let's dive deep - and really take our time to explore the messages that come up for you. Tarot can offer potent insight into your current stage in life's journey, whether you're contemplating big changes, challenges, or feeling stuck in a routine.

Maybe you have specific questions in mind, or you're just curious and looking for general direction. We'll work intuitively throughout the reading - what we look at and what you want to explore may shift throughout, so the reading is open to moving around to a few areas of your life, or going deep on one issue.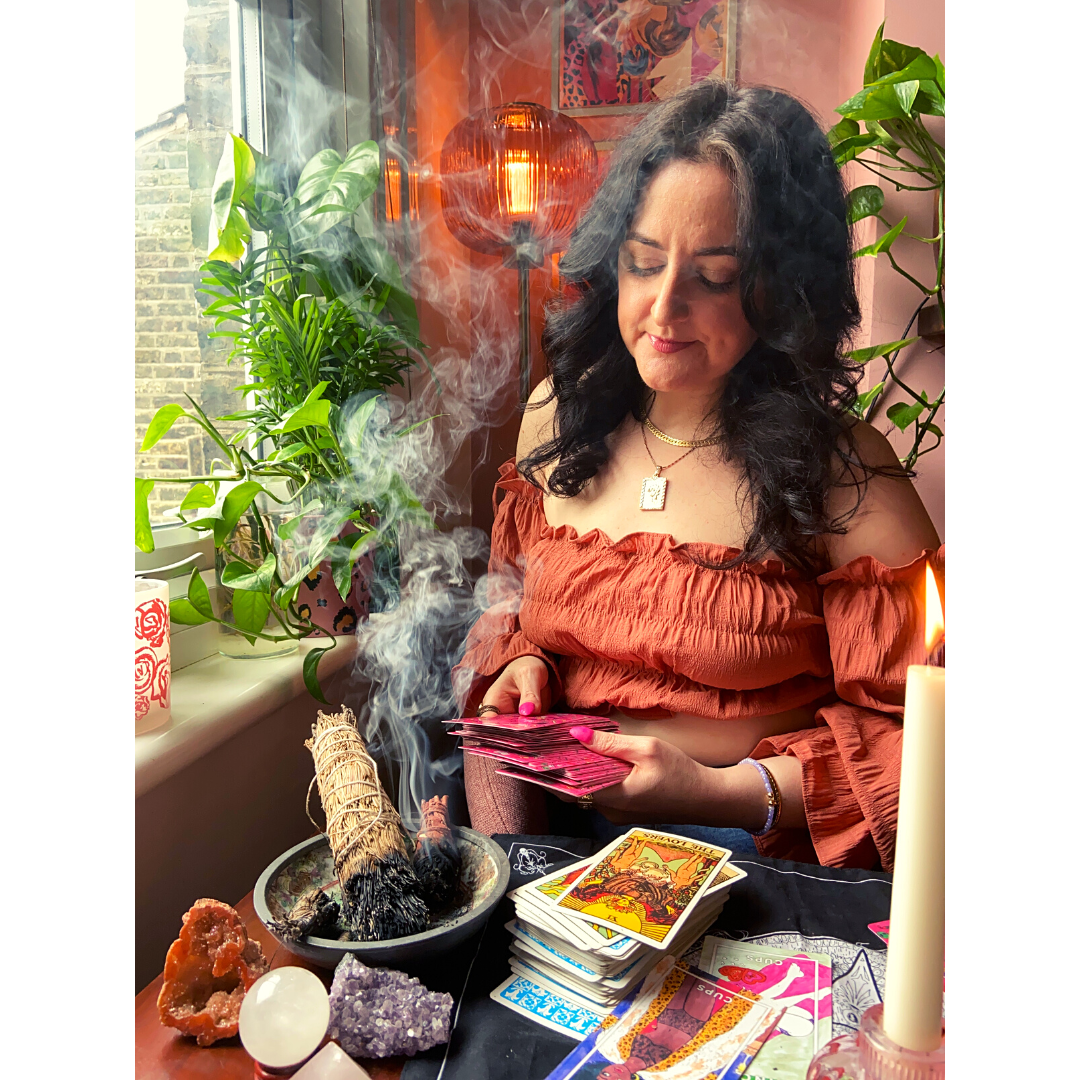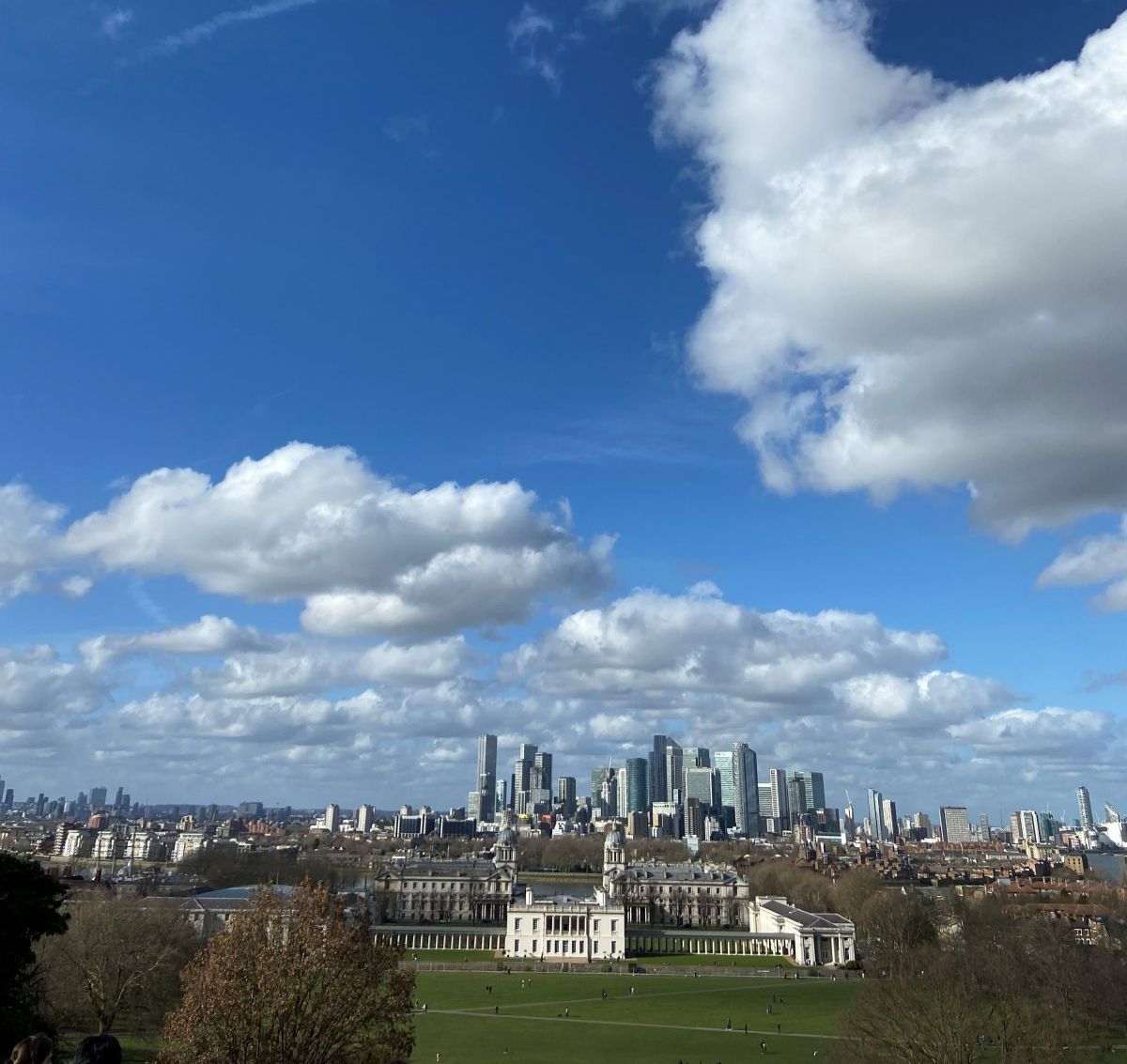 Greenwich - a charming backdrop for your reading
I'm based in Greenwich - a beautiful, bustling corner of London full of history which connects us to both the sea and stars. We'll meet at the adorable Rica's Cafe in Greenwich Market - or if the weather is sunny, the park makes for a gorgeous reading spot overlooking the river.

After your reading, make a day of it and enjoy the charm of Greenwich Market's arts, antiques, and food stalls. Catch the stunning views of the London skyline from the Royal Observatory, then stroll along the River Thames, and explore the park and museums for hours while you contemplate what you learned from your Tarot cards!
(Nearest stations: Cutty Sark by DLR, Greenwich by Rail, North Greenwich by bus and tube.)
Virtual Readings
Leaving the house can be a lot sometimes! From the comfort of your own safe space, we'll connect through video chat on GoogleMeet and do a complete reading, just like any other. Afterwards I'll send you a nice photo of your cards so you can remember and revisit them.

Online readings for friends and groups are also available as a great way to connect from a distance!
Megan provided me with such a clear and powerful virtual reading. She combines a deep understanding of the tarot with her crystal-clear intuition. She also created a warm safe atmosphere, and it was fun! I came away feeling my questions were answered. Thank you Megan!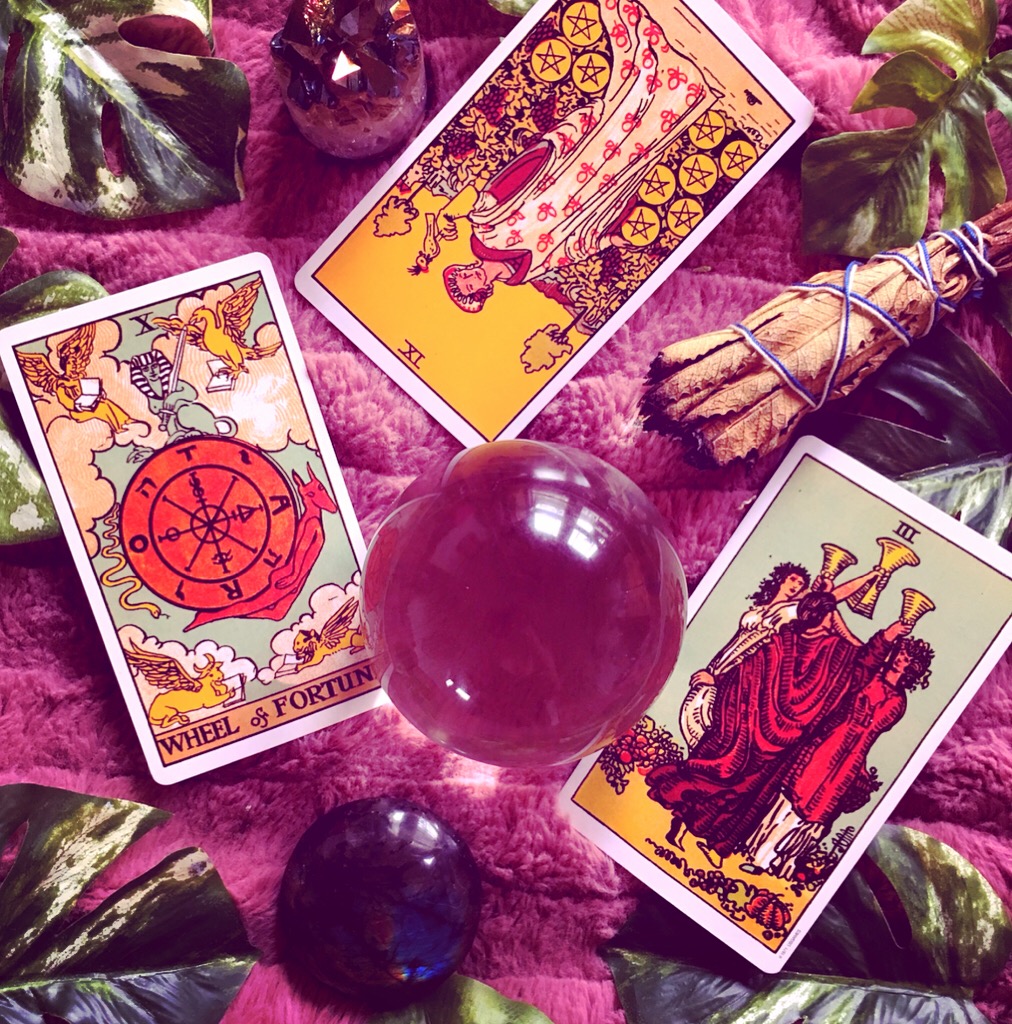 Group & Special Readings
Wanna bring a friend? Bond with your bestie in a back-to-back reading for two! I also have Love Life and Birthday readings which have been designed to work through specific questions and intentions.

Find out more about these offerings on my
special readings
page, and when you book just let me know if you fancy one of these specific options.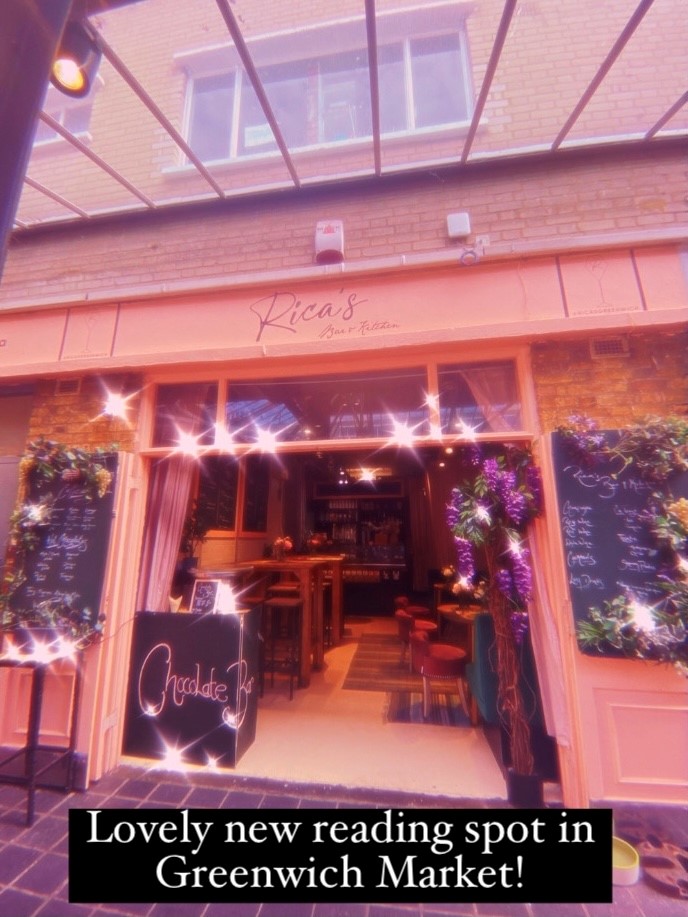 Tarot Magic
How does the magic of Tarot work? Unlike what you may have seen in movies, there are no scary predictions! The cards are simply a system of messages providing universal wisdom. The magic happens when the cards we pull seem to speak just to you and your life!
An ancient practice with a modern vibe
I deliver readings with a positive energy, warm sensitivity, and some of my spicy American humour. The cards are always honest, but I'm not a fan of "tough love" and there won't be any fatalistic doom and gloom. Our time together will be a gentle space to have fun and make new discoveries.

My approach is inclusive to folks of all different ages, faiths, cultures, and queer/LGBT+ friendly. (I can even read with more modern/queer/poc representative tarot decks on request.)

That Witch Tarot aims to provide the best and coolest tarot readings in London and online.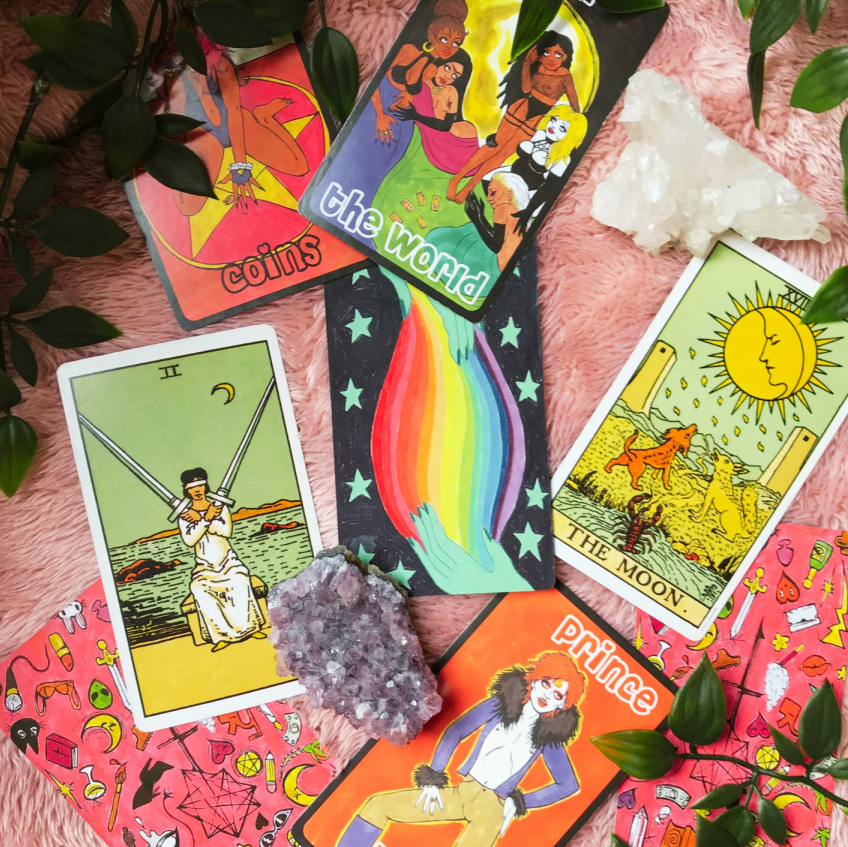 Prices & Availability
LONDON, BABY! IN-PERSON READINGS
Here's how to get me in-person for tarot readings in London:

60 minutes - £85. Available most Thursdays, Saturdays, and Sundays at Rica's Cafe in Greenwich Market, London.
45 minutes - £85. Special reading with candle magic. Available once a month at the gorgeous reading room of
She's Lost Control
, Broadway Market, London. (Check their site for dates and booking.)

VIRTUAL READINGS!
Comfortable and convenient, online readings offer all the same juicy messages with more flexibility, anywhere you are in the world. (

Available Tuesdays and Thursdays by appointment over GoogleMeet

.)
VIRTUAL 2024 YEAR AHEAD SPECIAL READING
A special 45 minute reading designed to check in on the past year and set intentions for 2024.
SCHEDULE YOUR BOOKING
In-person bookings in Greenwich are by appointment - use the form at the bottom of this page or email
megan@thatwitchtarot.com
to request a specific time.
Use the booking system below to schedule your virtual reading. (It says it's for the 45 minute New Year Reading, but you can request if you'd like a 30 or 60 minute virtual instead.) After you schedule you'll receive a follow-up email to make payment to confirm the booking.

Get In Touch to Discuss Your Reading
Still curious? Check out my
About Me
page
or contact me now by the e-mail or booking form below