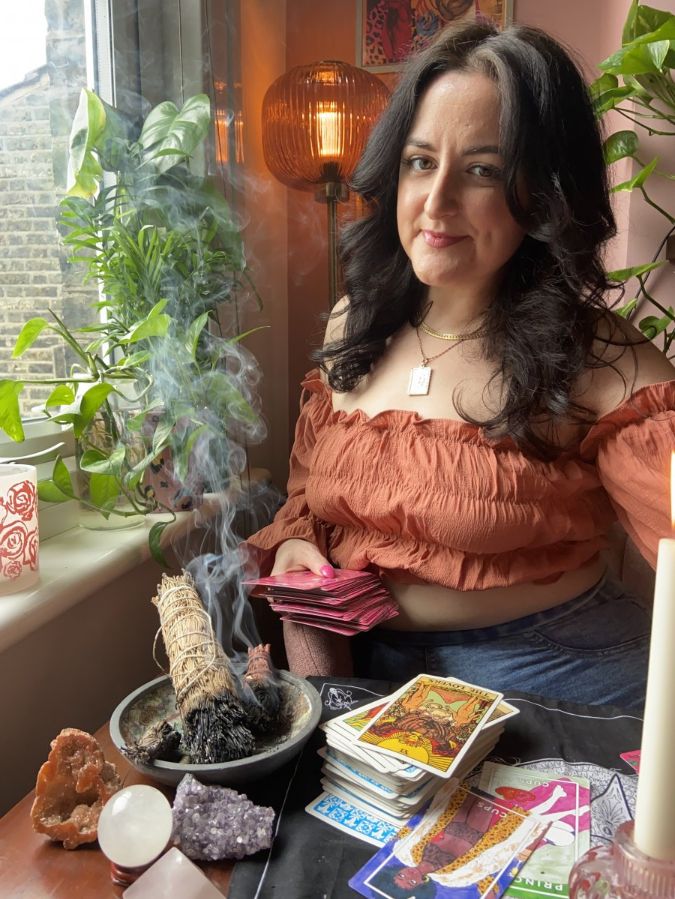 Hi! I'm Megan Jessica and I am That Witch!
I am an intuitive tarot reader, basic witch, and professional in the arts & entertainment industry, creating new experiences for tarot readings. I originally come from Florida, USA and have lived in London, UK since 2005. My readings are fun and entertaining, while also offering deeper insight into life's challenges, joys, and mysteries. I offer private readings both virtually and in-person, and I especially love working with groups and venues to bring tarot to new audiences for events.
As my witchy journey began I found myself intuitively drawn to divination. When I met my first tarot deck I knew we wouldn't be having a casual relationship and I'd be working with the cards for the rest of my life. I dove into studying the tarot, but when I started to read for others my connection to the cards really deepened in a much more powerful way.
Since launching my business, I've read cards for hundreds of folks from intimate birthdays to corporate events for brands like Selfridges and Sephora, and am proud to be one of the top booked Tarot Readers for Events in London! I also love to collaborate with other spaces, and am proud to be an in-house reader at She's Lost Control in Broadway Market, London.

I'm here to get deep with you on love, career, family, big life changes, or whatever you're working through. My most popular readings are my Love readings (I adore working with weddings and hen & stag do's!) and buddy readings. Clients have told me that I speak like an "old soul" and am particularly helpful with finding fresh and insightful ways to look at a situation that they hadn't considered. I like to think of myself as that cool, wise aunt who wants you to go out, have fun, and make mistakes - just as long as you do your homework first. And while my readings are informal and humorous, I aim to create a safe space that will be sensitive and gentle.
FAQs
WHAT CAN I EXPECT FROM A TAROT READING?
People often seek tarot readings at times when they feel lost or out of touch with their own intuition and need extra guidance. Unlike the movies however, Tarot doesn't always give new information or offer binary yes or no answers. Often, the cards confirm what we might already know, while pushing us to ask deeper questions. This can still be extremely helpful and validating, especially with the wise universal messages that the cards offer. As for predicting the future? T
hey can't do that exactly either, but they give a lot of information to help guide you in the next direction based on where you're at.
WHAT DECK DO YOU USE?
I read with two decks: the Smith Rider Waite (old school but magick) and Slutist (fun, inclusive, sexy, and very femme, queer, kinky). I'll discuss with you which you'd prefer or intuitively use one or both.
DO YOU OFFER PSYCHIC READINGS?
Some tarot readers also offer services like clairvoyance, mediumship, and energy readings. I believe everyone has access to these kind of intuitive powers if they work on them, and I do explore some of these practices privately in a way which can inform my readings - but I do not offer/promise these as services to clients right now. What I do offer is intuitive reading with my own flavour - pretty perceptive, a little bit wise, and good at talking about the deep stuff in a way that is fun, real, and accessible. Remember that tarot readers - like any guide or counsellor - are just human beings too. Only you truly know what is best for you - tarot is just a fabulous tool that helps you figure that out.
My rates are hourly and differ depending on the service. Prices for private readings are listed on private readings pages of this site. Check out the Events FAQ page for an estimate of my current events rate, but please do get in touch with details of your event for a more accurate quote.
When you decide to book, you'll be sent a request for payment to hold the booking. (For events, this is a 50% deposit, balance payable week of the event.) I operate a 48-hour cancellation policy - I understand things can be touch-and-go in these pandemic times, so if you need to cancel, the deposit will be refunded as long as you cancel at least 48 hours before your booking.